PlasCLEAR 1 liter
PLCR-1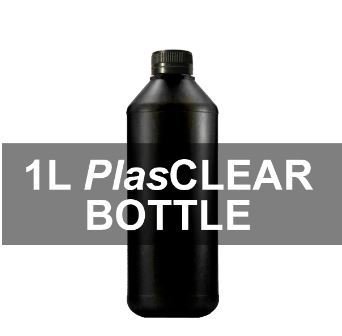 Suitable for:
Visors / Enclosures
Jigs and Fixtures
RTV Molds
Mechanical Assemblies
Concept Models
Photo Polymer for use in all FREEFORM systems
Asiga manufactures general modeling photopolymers for the Max or Pico series of machines in both white and water-clear colors. The materials can be dyed any color.
Note: There is no tray included. Purchase trays in "Consumables" section of shop.
General purpose clear material. Suitable for use in RTV and low temperature vulcanized molds, or for direct manufacturing.
Code: MT-MF-01-00-2
Dimensions: 22.0 x 21.5 x 7.0 cm
PlasCLEAR is a high resolution photopolymer suitable for a wide range of applications.
With strong PP/ABS-like properties, PlasCLEAR offers great durability with the added bonus of excellent clarity.
PlasCLEAR is the ideal choice for parts where transparency, form and fit, surface finish and detail are important.

Resins are non-returnable.

Download the PlasCLEAR Photopolymer for Pico & Pro Systems MSDS sheet.
MECHANICAL PROPERTIES

Color

Clear

Tensile Strength

52.6 Mpa

Elongation at Break

6.88 %

Elongation at Yield

8.90%

Flexural Strength

87.3 MPa

Flexural Modulus

1915 MPa

Hardness (Shore D)

79 Shore D

Viscosity

342 mPa s

Glass Transition Temperature

83°C

Izod Impact-Notched

4.91 kJ/m²

Density

1.184 g/cm³