PlasWHITE 1 liter
PWHT-1L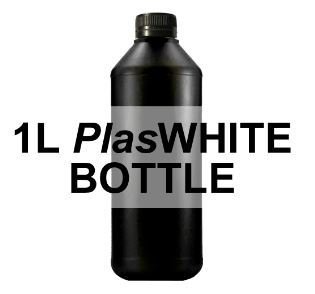 Suitable for:
Enclosures
Water-flow analysis
Jigs and Fixtures
RTV Molds
Mechanical Assemblies
Concept Models
Photo Polymer for use in all Asiga systems.
Asiga manufactures general modeling photopolymers for the Pico, Pico2, Pro and Pro2 as well as the new Max series of machines.
Note: There is no tray included. Purchase trays in "Consumables" section of shop.
General purpose ceramic filled white material. (Not for casting!) Suitable for use in RTV and low temperature vulcanized molds, or for direct manufacturing.
Code: MT-MF-02-00-2
Dimensions: 22.0 x 21.5 x 7.0 cm
PlasWHITE is a high resolution photopolymer suitable for a wide range of applications.
With ABS-like properties, PlasWHITE offers durability, stability, accuracy and excellent surface definition.
For industries that require tooling grade resolution PlasWHITE is an excellent choice.
It can be directly molded in RTV or low-temperature vulcanized rubber. If making vulcanized molds, you must dip the RP parts in Jett-Dri nanoparticle Teflon material so that it is easily removed from the cut mold.

Resins are non-returnable.

MECHANICAL PROPERTIES

Color

White

Tensile Strength

51.1 Mpa

Elongation at Break

6.58 %

Elongation at Yield

8.40%

Flexural Strength

86.8 MPa

Flexural Modulus

1910 MPa

Hardness (Shore D)

82 Shore D

Viscosity

343 mPa s

Glass Transition Temperature

84°C

Izod Impact-Notched

4.97 kJ/m²

Density

1.181 g/cm³